Specifically Latvian Vol. 6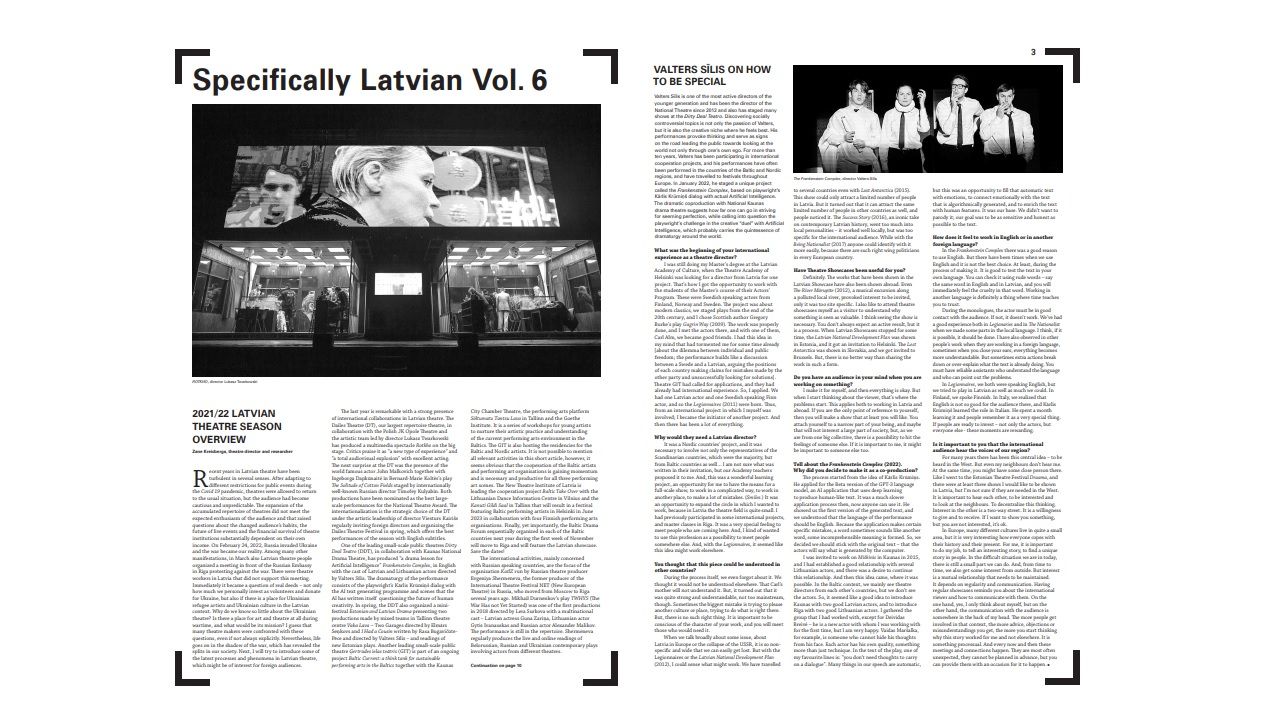 Simultaneously with the Latvian Theatre Showcase Academy, NTIL released its special newspaper Specifically Latvian vol. 6, available online and in print. This edition reflects on the current events of Latvian performing arts scene and introduces Latvian theatre and dance artists, original drama, current theatrical processes and artistic tendencies.
Download the Specifically Latvian vol. 6 here – Specifically Latvian vol. 6 or grab your printed copy of the edition in NTIL's office at Miera 39-2.
In Specifically Latvian vol. 6 read Zane Kreicberga's overview of last year's events in Latvian theatre, as well as interviews with theatre directors Valters Sīlis (LV), Lukasz Twarkowski (PL) and artists Jānis Balodis (LV), Nahuel Cano (AR) and IevaKrish (LV/LT). Lauma Mellēna-Bartkeviča's reflections, as well as feedback from participants of various international projects also can be found in this year's edition – Marika Čerņavska's (LV) experience in the project Samovar Circles, Maarja Kalmre's (EST) and Rūdolfs Gediņš (LV) feedback on participating in the Baltic Take Over assemblies, as well as the young curators' progress in curating a programme for the festival in Trondheim, Norway as part of The Shake Down project. Last but not least, read a conversation with the creative director of the New Theatre Institute of Latvia Bek Berger.
From the 2nd till the 5th of November 2022, Latvian Theatre Showcase Academy took part in Riga, inviting experienced performing arts curators and producers from several European countries – Laia Montoya, a performing arts manager, exhibition coordinator, organisation producer from TINA AGENCY, Germany/Spain, Roman Pawłowski, a theatre curator and programme director at TR Warszawa, Poland and Julia Asperska, an Associated Curator at Internationale Tanzmesse NRW, Germany/Poland – to introduce the Showcase Academy participants to to the most important performing arts networks, projects and trends of the international theatre field, as well as provide skills for effective presentation and searching for cooperation partners of one's work internationally. 13 participants took part in the Showcase Academy representing the state theatre and NGO theatre sectors in Latvia, as well as various independent artists.
The Latvian Theatre Showcase Academy as well as the newspaper Specifically Latvian vol. 6 are financially supported by the Ministry of Culture of the Republic of Latvia.
Back