Rothko as Rotkho. Lukasz Twarkowski on the provenance of art.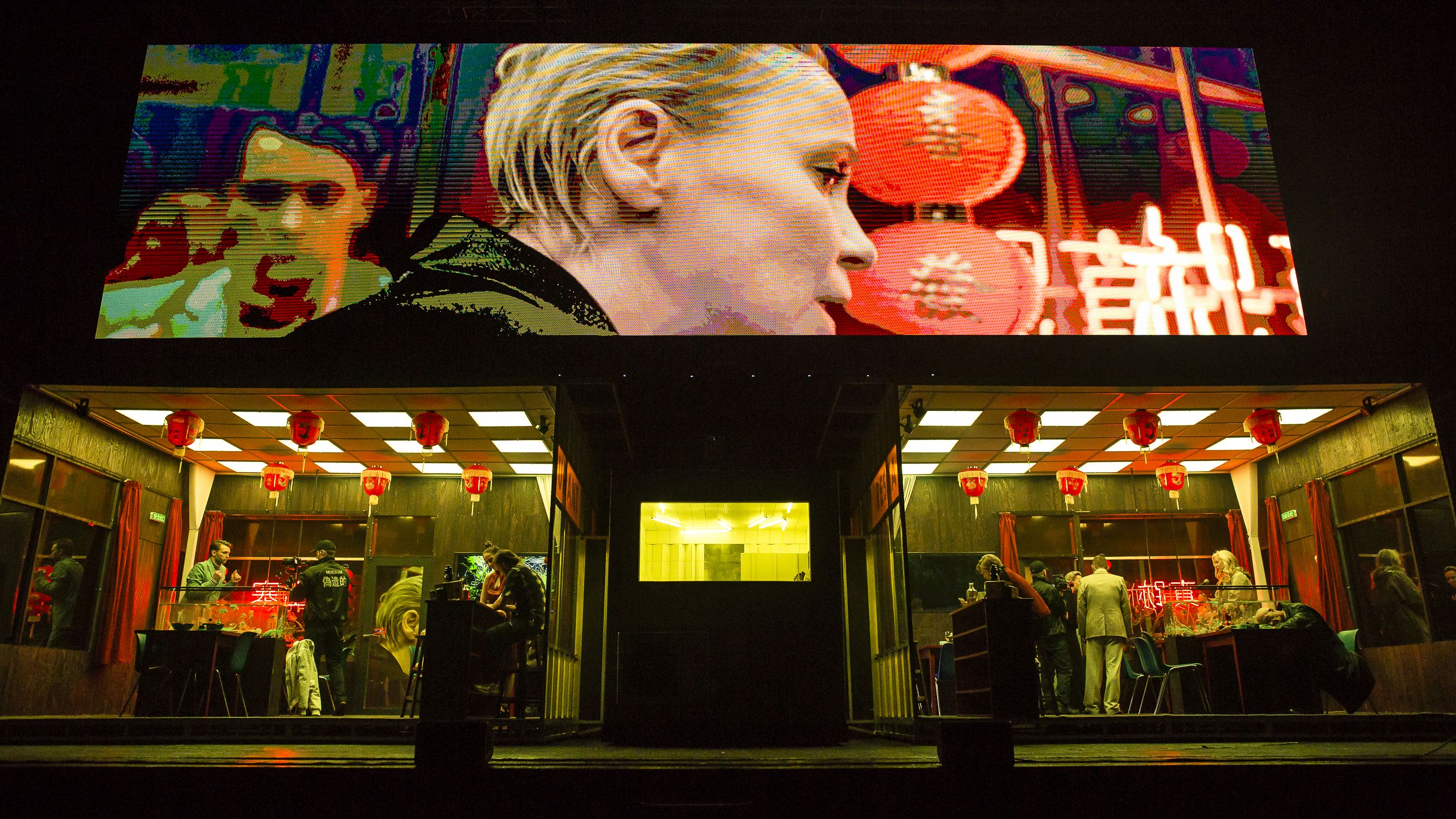 Poland's leading contemporary director Lukasz Twarkowski has staged one of the most impressive theatre shows in Dailes Theatre in Riga this year dedicated to one of the world's most expensive artworks – Mark Rothko's painting No. 6. Straddling the border between theatre, film, and video art, ROTKHO (a distortion of the famous Latvian born artist's surname) dives deep into the abyss of contemporary art, questioning the relationship between the fake and the original in the eve of the era of digitalization. Nominated in six categories, including Big Form Performance of the Year and Director of the Year for Latvian Theatre Award Spēlmaņu nakts 2022, the show is awaiting a wide touring programme in the year to come.
How did the Rotkho project start? And why was it important to stage it in Latvia?
This project has its origin in many different places and times. It's true that I would probably not think about doing a performance, partially based on Mark Rothko's story, if I didn't have the proposal to work in the Dailes Theatre in Latvia. At the same time, it was a topic I've been interested in for a long time. I have appreciated Rothko paintings since I was a teenager, taking my first trips to London and New York. A few years ago, there was a huge retrospective exhibition in the Kunsthistorisches Museum in Vienna. And it was very strange, with all these historic interiors, full of decorations… For me, it was impossible to appreciate Rothko and his art [in this environment]. And I felt that it was kind of a failed idea… There were long queues to get there, and, in fact, I left with huge disappointment seeing the bourgeois Viennese audience so happy after having the opportunity to see these paintings. It was one part of the inspiration. At the same time, I would also search for the origins of this project in China. I had a chance to take many trips to China with Krystian Lupa working on video works for him. During these travels I was offered the book Shanzhai: Deconstruction in Chinese by Byung-Chul Han which pretty much saved my life in Asia and China and became like the basis of the Rotkho project from the very beginning. It tells about the idea of originality which is so important in Western culture, and offers different perspectives about the relation between the original, fake and the copy. There were many ideas I found extremely interesting in Byung-Chul Han's writings.
When I proposed the topic of Rothko to artistic director Viesturs Kairišs and director Juris Žagars from Dailes Theatre, they accepted it quite enthusiastically. I had in my mind that it would not be a kind of biography about Mark Rothko, but rather a philosophical performance around probably one of the most important questions of modern art. And when we had related these two topics – the Rothko story and Byung-Chul Han, we were trying to dig a little bit deeper through aspects of Asian culture, trying to see Western culture and its art market from that perspective. To put it under the microscope and try to re-examine… and to look at it through Byung-Chul Han's interpretation. This was one of the most important things for me – how differently the idea of a copy and an original is understood in both cultures. And this is what I really experienced in China as well. And just after, when we had related these topics that were somehow going through China, New York and Latvia, after having created this triangle between the three countries, I discovered the movie Made You Look: A True Story of Fake Art (2020) which is telling the story about one of the fake paintings of Mark Rothko. It fit so perfectly with the idea that we had had from the beginning, and we started to use it.
Foto: Artūrs Pavlovs
Every time when we dig for the topics, we try to work on the edge between fiction and documentary research, and then we develop them into more fictional kinds of stories. It was pretty important to do it in Latvia because otherwise I wouldn't have decided to do it about Mark Rothko. At least not now. Over the last few years it has become kind of… not really a method – I don't think it is good to have a method… but it's true that our research is quite often concentrated or started from the place where we are digging for this topic. It also forges a connection to the place and the people with whom we work. Already with casting, it was good to talk with the actors about Rothko, about his paintings and the prices of his paintings etc. It's good to start with something that has some connection with the soil we work on.
What is the main thing you wanted to share through this performance? Was it the unsolvable relationship between original and copy? The myth about authenticity? The domination of capitalism over spiritualism? To find the core of the meaning of art? To explore the aesthetics of Rothko?
I would answer "yes" to all these questions. We are interested in all of these topics and many more. I believe somehow that theatre is the kind of art that has the possibility of finding a way of communication completely beyond language. And this is the case also for this performance. Of course, we had thousands of questions on which we were working on and which are present in the show. Somehow this dramaturgy starts from the past, from the position of this renowned artist in sixties, it is goes through nowadays and then draws the storyline which goes into the future because this is what we are living now – the question of NFT (non-fungible token, ed.), and question of materiality and value in general. And of course, the question of transgression and transcendence – the need of transcendence and emotion. It's all in it. I don't want to set limits. I think that in most of our shows we are building very complex realities that can be shared as a kind of collective experience. As I always say, if you can share ideas with words then it makes no sense to make a performance about it. It takes a lot of effort to do the show, like months of work… If you can share some ideas in words, then it's enough. I believe that theatre is one of the most complex arts that has the possibility of communicating on many different levels, not only on an intellectual one. It is one of the most sensual arts in which we are receiving something, sharing time with others through all of our senses. That's how it is stronger than the cinematic language which we are also using in this show. But the synergy of live performance with cinema gives a much stronger effect that you cannot achieve either in cinema or theatre on their own.
How do you see the place of the theatre in this art market capitalization and also digitalization?
The theatre is an ever-changing organism which reacts quite quickly to reality. So, of course the challenges nowadays are enormous on all levels, not only the war that is going on, but also regarding climate change, the catastrophe that is approaching, and how we can take responsibility for it. At the same time, while making the theatre productions there are so many positions we have to take on. But in the times of digitalization… I believe that theatre is an organism that has been devouring all the technologies ever since… forever. It is like a mutant which is changing, taking something from life, trying to find the answers to this reality we are going through. And I believe that it will always find its way to share, even if it takes a completely different form. No matter, if it is an immersive performance or video performance, or made only via an internet connection. But, this is the question as well that everybody has to answer – when does theatre start? I remember Tadeusz Kantor had this beautiful sentence that the theatre starts when in front of one human being stood another human being, but divided by an impassable border. I believe that also in the digital era this kind of meeting will still be needed, and we will be more and more seeking very simple human contact. I cannot predict the forms, but I believe that it will always find its way of communicating, and it will keep on changing permanently.
And what concerns the part of the capitalization of the art market – it is always a question… working in the theatres and big institutions in different countries. In the case of Rothko, we were asking ourselves – how can we criticize art market and capitalism while doing the show in one of the biggest and richest theatre institutions of Latvia. But I don't think that we shouldn't do it… I think we have to ask all kinds of questions, no matter where we are. It is still a very special community. I believe that theatre doesn't really fall under the market rules, it is still pretty much connected to the whole theatre system in our part of the world. And the theatre should be open for experimentation and research. I think that one of the most important challenges for artistic theatre is taking a voice regarding problematic topics, giving them a possibility to be researched and serving as a laboratory for finding a new language of communication.
There is this scene in your performance where Juris Bartkevičs as Rotko says "they do not even know where Daugavpils is!" – as it was absolutely necessary to know one's background to understand one's art.
This sentence is something Rothko himself probably has never said, but for me it is more like a scream of despair from him in this difficult moment when you are being fooled, and you understand that your plan went wrong and you have to take back your paintings. But if you are asking about the background – I don't think that it is absolutely always needed, but this is how I learned to read art. Somehow all the artists with whose biographies we work, their background is always a very important starting point to imagine their context and their topics. In the case of Rothko, I believe that his origins from Daugavpils were very important, as well as his Jewish origins. But I would say, as we consider him as an American artist – as he moved to the United States at the age of 10 and he was almost fully formed in the United States. But I believe that sometimes absence can be even more important… I believe that the memories from childhood and the feeling of being somehow a vagabond and being this never-ending traveller… I think that it is a kind of experience that forms us. And often even more strongly than very well-known and conscious origins. Personally, I could say that sometimes the lack and absence of the father is something that forms you much stronger than his presence would.
Would you say there is something specifically Latvian about the Daile's actors you have worked with?
In this kind of a project, we are always searching for artists ready to go with us into some kind of a journey about which we have no idea what the end-result will be. In the beginning, we don't know what the script or even what the characters will be. It always needs a lot of trust. And I would say that in this production I met an incredible team of co-creators who are ready to chase a dream and stand together in this trip towards the unknown. And what I appreciated enormously in this work and what is not so common anymore, is the incredible respect for each other and for our profession we are working in. Like the question of taking a stake… we put the stake of this game, of this creation – how personally important it is for me and what I can give to the group. And here in Riga, in the Dailes Theatre I felt from the beginning that all the ensemble is fully in. I think that is one of the most beautiful things to have in this kind of environment – one that is full of respect, love and imagination.
Next ROTKHO shows:
1-3 Dec, Dailes Theatre, Riga, Latvia
10-11 Dec, Opole, Poland (Divine Comedy Festival)
Also showing in February and April in Riga, Latvia
25-28 May, Onassis Stegi, Athens, Greece
Back