IEVA-KRISH: Out of the (black)box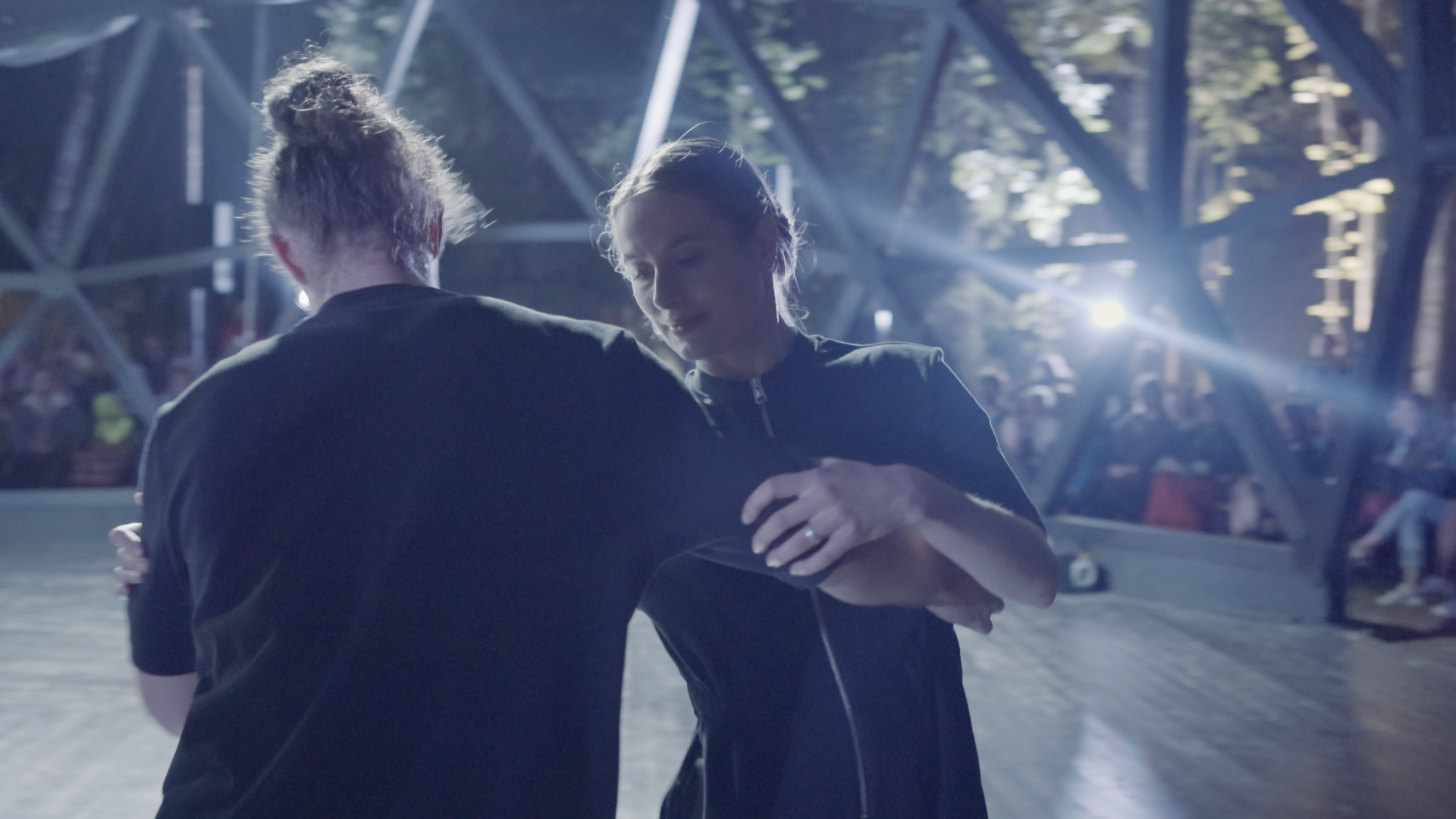 Artist duo IevaKrish consists of internationally working dancers/choreographers and set designers Ieva Gaurilčikaitė-Sants (Lithuania) and Krišjānis Sants (Latvia). Krišjānis studied dance in the Latvian Academy of Culture and P.A.R.T.S. in Belgium, but Ieva acquired her professional education in Scotland SSCD (2015) and Israel (2016). Both artists have also completed master-level studies in scenography at the Latvian Art Academy. Their practice uses a hybrid of choreography and scenography to create immersive and reactive experiences with their audience, and they work in a wide range of forms and media – from direct guided experiences between the artist and individual audience members, to elaborate interactive events that bring larger audience groups together in spectacles of dance, food, collective massage and breathing workshops. Ieva and Krišjānis have co-founded and run a performance art company TUVUMI that aims to develop the experimental stage arts environment in Latvia and to create a shared art environment both between Latvia and the Baltics as well as the Baltics and Europe. The couple, who share a child together, spend a lot of time on tours moving between countries. "Specifically Latvian" spoke to them on one of those late nights when the family had just arrived to a new place to get an insight into the everyday life of actively touring dance artists.
Did you arrive smoothly tonight?
Ieva: Yes, it was quite a calm trip.
Krišjānis: We chose another route through Birži, so we could bypass all the road repairs that were taking place throughout the summer. There were not many trucks, so it was quite pleasant – a beautiful road. There were leaves falling.
How much time do you spend at home and how much on the road?
Ieva: It depends, there are days or months, mostly in summer, when we go home only to wash and repack things. We travel not only abroad, but also in Latvia, outside of Riga.
Krišjānis: There is no fundamental difference – whether to go to Lithuania or towns in Latvia. Packing is exactly the same. We pay taxes in Latvia, we are based in Riga, our sets for the performances are located in Riga, but we spend a lot of time in Lithuania and other places in Europe.
How was your last year?
Krišjānis: Regarding last year, we have two professions that usually take us abroad – we work as performing artists for foreign companies…
Ieva: And we are responsible for our own projects. We travel abroad with our own works.
Krišjānis: And in both cases this was a post-Covid year. Because during the Covid pandemic, everything slowed down.
Ieva: In March 2020, we left for Prague, the next day we had a show in Germany, and we had to cross the border quickly before they closed the border. We got to Germany on the day when the quarantine started.
Krišjānis: Our show was not canceled because it was intended for less than 50 visitors.
Ieva: We managed to come to Latvia before the borders were closed here, and that was the end of the tour. With some exceptions, we didn't really get to travel much until this year.
Krišjānis: All the elaborated connections kind of have to be created anew. As authors with our non-visual accessibility work House of Labrys, this year we have only traveled to Estonia to the Baltic Dance Platform and to the opening of the new season of the Tanzhaus in Düsseldorf with their new artistic director Ingrida Gerbutavičiūtė.
Krišjānis: As performers we traveled with the Fieldworks, a company based in Belgium and Norway, who have been to the Homo Novus festival several times. I am involved in some seven different projects there, and Ieva in four projects. Just before the Covid restrictions in February 2020, with Fieldworks we traveled to Japan, to the Yokohama International Performing Arts Meeting, and performed three shows in Tokyo. It looked like we would soon go everywhere as performers, but then everything stopped, and those contacts have to be established anew. Now there is a higher competition in the market between works that should have been shown, which were not shown and were re-created.
Ieva: We were also teaching a course on space and dance at the Lithuanian Academy of Music and Theatre. Which is a new thing and the third profesion bringing us abroad.
How do you establish these international contacts?
Ieva: First, we have both studied abroad, and for me, living in Latvia is also living abroad. I think every encounter is very different. We came to Düsseldorf because the new artistic director is a Lithuanian, who saw us with a completely different work Uzdzist / Infade in 2018 on the Latvian Dance Platform. And that work really appealed to her at that time, she remembered us.
Krišjānis: We have known many people in the European dance community since our student years. And whenever there is an opportunity to go abroad or participate in some foreign context, we take this opportunity. Then, at some point that information accumulates, you meet the same person again and you start to have a common conversation about what can be offered. For example, in 2015, I was in the same EU project with Ingrida Gerbutavičiūtė called Identity.Move and later in 2019 she supervised the stage where we pitched project ideas for Labrys. So before the invitation to Dusseldorf we had already had a handful of meaningful meetings. Of course, there are cases when it doesn't happen or doesn't go as planned.
Ieva: I must say that we are consciously working on it. That is our choice – we try to actively establish contacts and participate. Also, for the platforms… we applied for the second Baltic Dance Platform in Tallinn and we were selected.
Krišjānis: We continue to apply, because we have something to offer abroad.
What is your motivation to work internationally?
Krišjānis: One thing is our international study experience, and another is that, unlike classical theatre, dance is not limited by language. So, we have no reason to think only within the borders of Latvia. There is the artistic aspect, and the financial aspect. When we started working and paying taxes in Latvia, we soon realized that in the Latvian financial system, be it a festival, an individual work or regional traveling works, all involved parts always apply for the Culture Capital Foundation (KKF) funding. And their budget is what it is. Meanwhile, one way to co-finance projects is to export finished works abroad. You can call it the exporting of art, but you can also call it economical ecology. If you have invested resources in the creation of work, and reached the limit of your audience, then there is absolutely no reason not to go elsewhere.
Ieva: There is also the aspect that we are not a repertory theater. We are independent artists. We do not have a space here where we could perform this work again and again. It is quite difficult to work purposefully outside of Riga… Everyone is ready to accept something, but no one is ready to write a project or commit their funding. If we want to present a show in the region of Latvia, we must not only say – please take us, but we also have to often finance ourselves. But, in any case, we try to create works so that they can tour abroad or outside of Riga.
Krišjānis: We exist in the format of guest performances. It is easier to organize a performance with a stable partner abroad, than in a less stable place in the Latvian region. We are not unique in this situation. For example, professor Olga Žitluhina also works in a form of guest performances. It depends on where those contacts are. She traveled a lot to China. There are others who have completely moved abroad. It probably happens less often in contemporary theatre which feels more self-sufficient.
Ieva: If you make a show in the theatre, like Dailes Theatre, it also belongs to the theatre and it is not easy to show it elsewhere. If you make it for a space you know, then you adapt it to that space, and it becomes difficult to move it. So, you remain local. Since we don't have our own space, we rehearse where we can… The first Labrys performance we were rehearsing outside on the AB dam. Because there wasn't any other space big enough for us to rehearse. Also, traveling allows you to cover a wider, more varied audience, not to stick with one taste.
Krišjānis: Working internationally is also connected to the cultural-political and even geopolitical security situation. It is necessary to intertwine that big space of myth – to connect Latvia with Baltic States, to connect the Baltics with Northern Europe, Eastern Europe, the West. Showing our work, performing in the public space in Düsseldorf, for example, we bring our vibe there. We are noticed, and potentially that German viewer will feel more that the Baltics are a part of Europe. It should not be forgotten that the exchange of art and culture is about building a common myth between us and the rest of the world.
How would you describe the context in which you work?
Ieva: It is difficult to say what the contribution would be from the Baltic states outside of the political aspect. Europe is a vast place and very mixed.
Krišjānis: Maybe the specific thing is that our works are not black box works. They are a specific approach to space and space solutions. Maybe it is the result of a tough situation, in Riga we simply don't have many black-box theatres. There are so few of them that we haven't made any work in the black box since leaving school. Of course, this is also our choice – to not try not to get inside such types of theatres. Our dance field and spectator area are united, not separated like in the black box. Our contribution is, on the one hand, maybe cool and interesting, on the other hand, it sometimes makes it difficult to get into the wider network, but the system that exists in Europe is more or less based on the black-boxes, and we give the jury a headache.
Ieva: And it is sometimes for 33 viewers, not 400. This is a difficult format, and that's why we repeat it many times.
How long can a dance work live?
Ieva: Our works are never completely ready. For example, we premiered Labrys on AB Dam in 2019, and we are still developing it. It has evolved into another project, House of Labrys. After the show in Tallinn, before going to Dusseldorf, we worked on it thoroughly, because the audiences are very different. Each time the work meets the viewer, it appears in a different light. We learn something new about it and improve it for the next time. And we go on, until we are satisfied. It seems that it went well in Dusseldorf, now we will try to show it again in Riga.
Krišjānis: In 2015, the Swedish artist Erik Eriksson and I made the work Vērpete / Whirl together. We showed it 14 times in Latvia and once in Sweden, but for some reason it did not go further abroad. We didn't understand something in these processes… The work still seems interesting to us and potentially interesting to the viewer, and this year we decided to revive it. We staged it again, this time designing it for specific places in Sweden and Lithuania. Otherwise, if you work in all directions, the work may very well disappear internationally. Maybe you don't get to one place, but you might get to another. Sometimes even a rejected application helps.
Ieva: I think, during these seven years you have matured as authors, and the show has matured itself.
Krišjānis: What I wanted to say is that works do not expire, but they do not always find the audience immediately. Ieva and I, we are working slowly. And that is the case for many artists. The life-cycle for a new creation is two years. If you work on something for two years, showing it only a few times is not enough.
Ieva: Sometimes after a premiere you are still in great emotional anxiety, whether you will be accepted or not.
Krišjānis: Sometimes there is not enough time to be ready for the premiere in Latvia. Not enough time for rehearsals, not enough financing. The more you repeat the work, the more it matures, the more you understand what this material is about. Ieva and I often say that we are materialists, meaning that we don't work with the ideas, but with the material, and little by little we discover the ideas that our working material carries.
Satikt – Nov 6, 15.00, dance exchange programme
HOROS, Aizpute, Latvia
House of Labrys – Dec 3 & 4, 17.00, Latvian National
Museum of Art, Riga, Latvia
Vērpete / Whirl – Jan 7, Riga, Latvia (tbc)
Vērpete / Whirl Feb 6–12 on tour in the Dalarna region
(Falun, Orsa, Idre, Smedjabaken), Sweden
Back