Seven artists propose five art interventions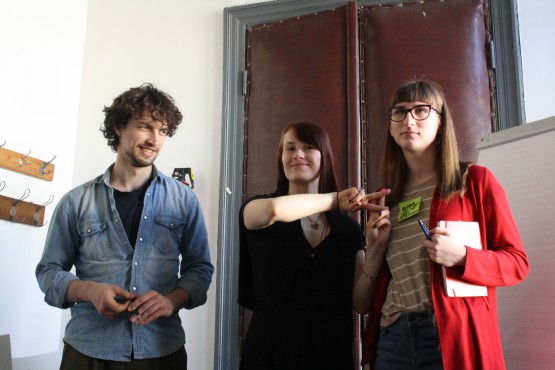 The New Theatre Institute of Latvia has launched the second part of Theatre Expanded project where together with five selected artists we will explore and try out the artistic intervention. The term "art intervention" applies to an artistic practice that interacts with an existing structure or situation, be it another artwork, the audience, an institution or the public domain. In our case, the aim is to interact with specific social or professional groups, organisations or fields that are not related to art, in order to create new perspectives and possibilities there.
The director Māra Gaņģe in collaboration with the Latvian Association for Blind People and eye care professionals will explore the accessibility of Latvian theatre and the conditions for visual art experience for blind people. The choreographers Ieva Gaurilčikaite and Krišjānis Sants in collaboration with resource centre for women Marta will analyse causes of violence and develop positive and life affirmative game for different male groups based on phenomena of mirror neurons. The dramaturg and theatre maker Jānis Balodis will perform art intervention in the mindset of finance specialists and economists with the aim to test the potentiality of alternative economic models. The dramaturge Laura Lapiņa's intervention will concern with the field of public administration in order to facilitate changes in the attitude towards civil servants. Directors Toms Treinis and Mārtiņš Zariņš will work on artistic intervention in the world of plants, exploring potential of art and science collaboration and reflecting upon topics related to post-anthropocene, political ecology and colonisation of nature. The project will be developed with the help of young creative producers Madara Sokolova and Katrīna Dūka.
As part of the process and to support the young artists in their research, we organise three workshops led by the researcher and practitioner of applied theatre Anne Pässilä and economist Anne Kallio (Lahti), dramaturge Sodja Lotker (Prague) and game designer, alternative social and economic space researcher Pekko Koskinen (Helsinki).
Photos from Anne Pässilä and Anne Kallio's workshop at Kaņepes Kultūras centrs on 3-5 April, 2017 (by Andrejs Strokins, Laura Stašāne, Sandra Lapkovska).
The project is organized by the New Theatre Institute of Latvia in collaboration with Vaba Lava in Estonia and with the support from The ERAF Central Baltic Programme 2014-2020, the Ministry for Environmental Protection and Regional Development and State Culture Capital Foundation.
Atpakaļ