Photos and video from Andrejs Strokin's "MagiC Carpets" residency closing event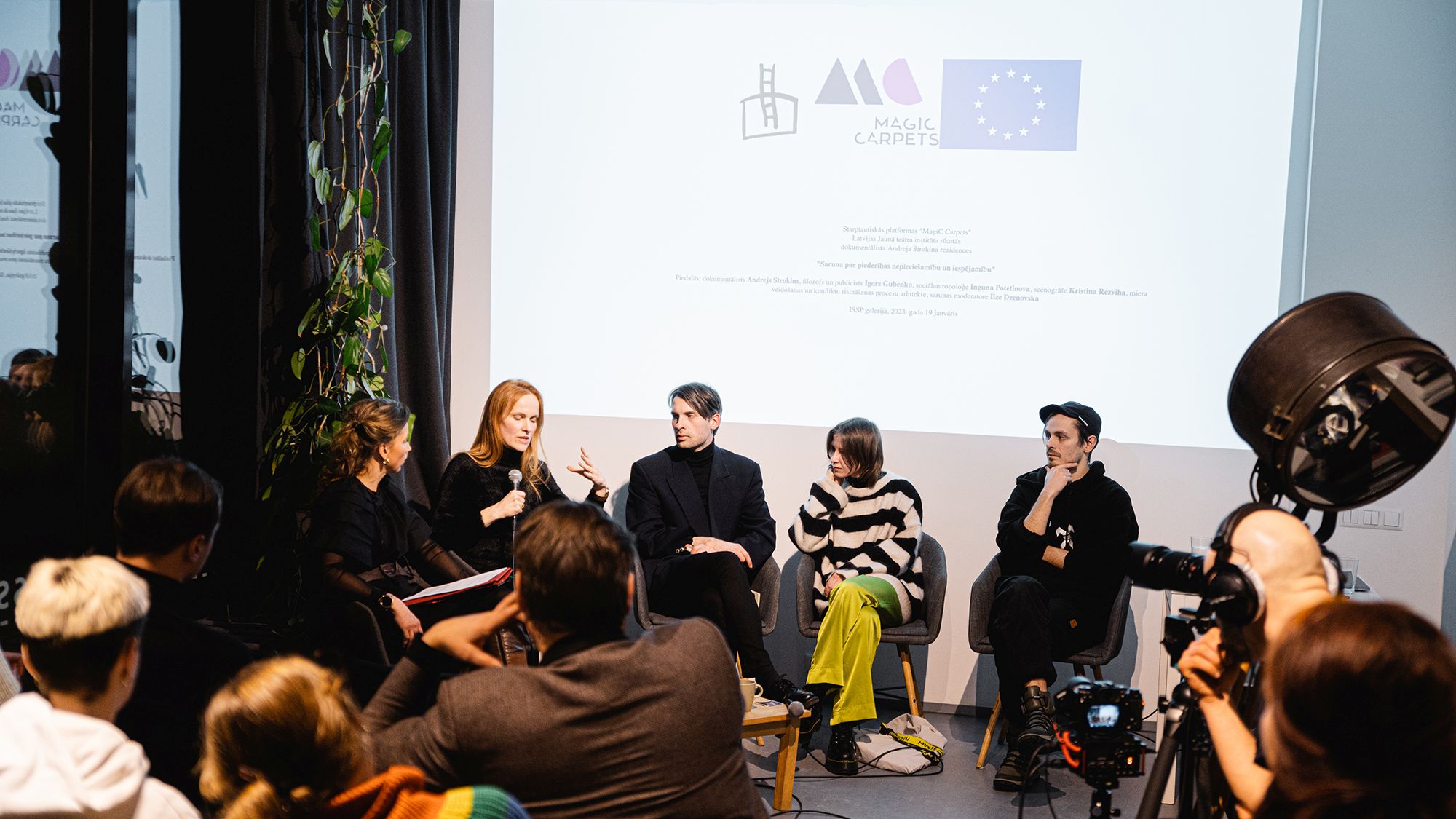 Current world events, which also resonate in our society, encouraged us to return to the stories of the individuals and the possible dialogue between different people, communities and places, therefore, in the summer of 2022, the New Theater Institute of Latvia approached photographer and documentarian Andrejs Strokins to participate in the residency of the "MagiC Carpets" project. In August, during the residency, the artist documented the demolition of the occupation monument in Victory Park in Riga, which symbolically marked a sharp borderline in relations with the legacy of the Soviet occupation. In the autumn of the same year, Strokins started a research project, trying to find contact with young people who would be willing to share stories of experiences about disagreements among family or friends regarding Russia's war in Ukraine.
At the end of the residency, on January 19th at the ISSP gallery, Andrejs Strokins presented the photo and video material created during the residency in a conversation with philosopher, publicist Igors Gubenko, social anthropologist Inguna Potetinova, scenographer Kristina Rezvih and conversation moderator Ilze Dzenovska. The discussion addressed topics and issues that arose from conversations with young people from bilingual families.
Video: Alfrēds Ulmanis
Photos by Aivars Ivbulis
"Magic Carpets" platform is an international project to promote the mobility and visibility of young European artists from different disciplines, giving artists the opportunity to take part in creative residencies where they work with local communities and artists to create socially inclusive and responsible works of art.
"Magic Carpets" platform and artists' residencies are co-funded by the EU's Creative Europe programme.
Back