New forces join the team of New Theatre Institute of Latvia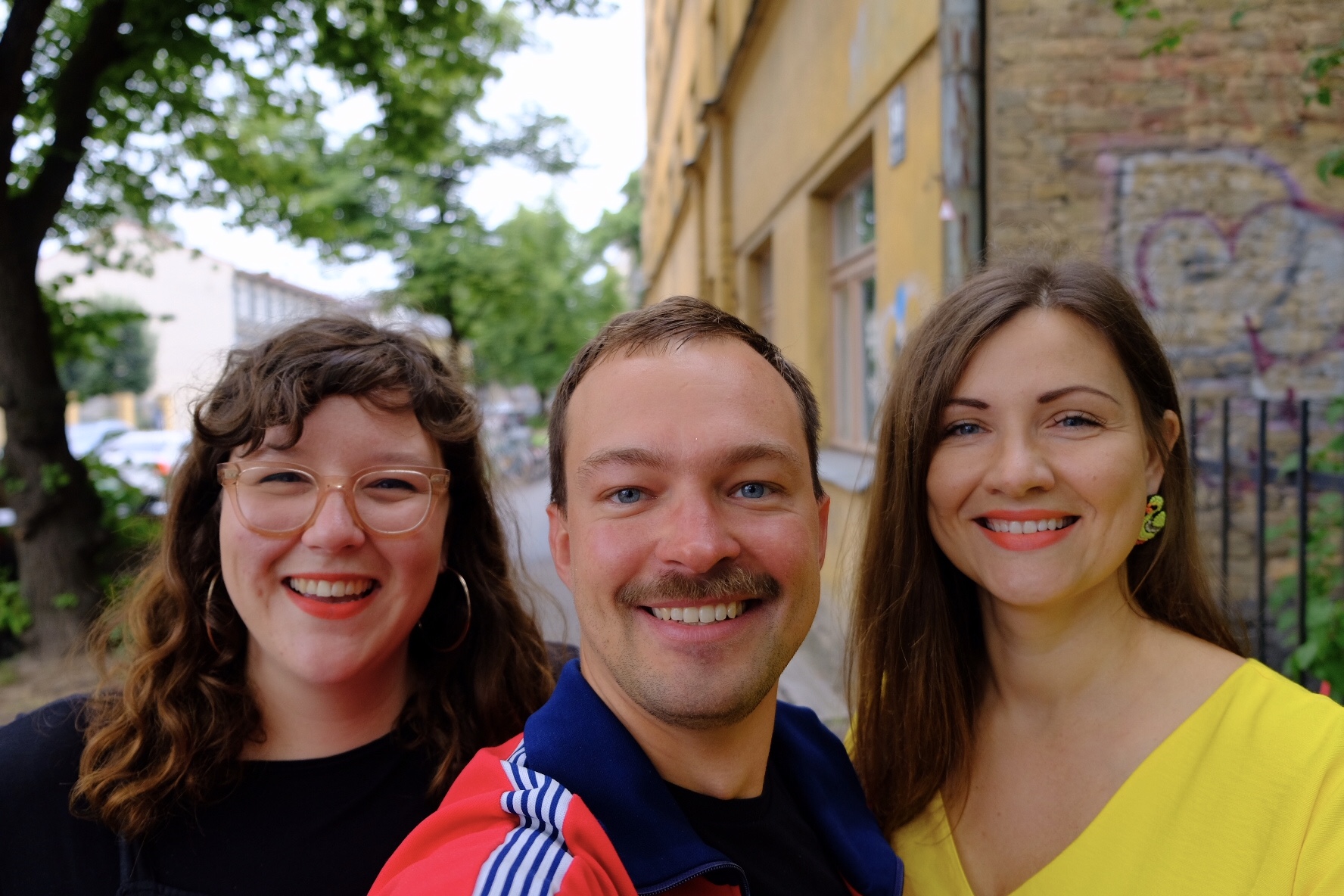 The New Theatre Institute of Latvia appoints new artistic director, Bek Berger who will gradually take over the artistic leadership of the organisation, as well as information coordinator and creative producer Evarts Melnalksnis and ACT: Art, Climate, Transition project coordinator in Latvia Eva Johansone. 
Bek Berger, originally hailing from Melbourne, Australia, brings a wealth of experience as a curator, creative producer and artist. She first participated in Homo Novus festival in 2018 together with Australian choreographer, James Batchelor. The festival experience inspired her to return last year together with a network of emerging European art workers. We believe that Bek's experience across borders and art forms along with her intense curiosity will lead the Institute into a new stage of development maintaining it's significant position locally and internationally.
Bek Berger said: 'I am thrilled to be charged with the custodianship of the New Theatre Institute of Latvia and in this appointment look forward to upholding the legacies of the directors before, especially my esteemed colleague Gundega Laiviņa. After her visionary tender, The New Theatre Institute of Latvia and Homo Novus, in my opinion, has become one of the most artistically rich arts institutions in the world, providing spaces for intimate provocations and epic explorations. As a part of the new team, we will bolster the program with more precarious performance, international interrogation and dangerous ideas. In addition we will continue to cultivate new works by local citizens and provide nourishing engagements to inspire new curiosities. It's an unavoidable fact that the world has changed and our togetherness is under threat not only from our own prejudice or fear but that towards this indiscriminate virus. Our mission is therefore forced to adapt not to avoid the international, embracing this fellowship in new ways.' 
Bek Berger is an artist, curator and producer originally from Melbourne, Australia. Over the last five years she has been a nomadic creative producer working in festivals across the globe such as American Realness (NYC), Dance Massive, Darwin Festival (AU), Fierce Festival and Forest Fringe (UK). As a curator she has (co)/initiated projects such as Critical Futures, Convergence, La Discorso, Possible Futures Forum as well as shaping events for Darwin Festival, Tanz Im August and Moving in November/Baltic Circle. Since 2017 she has been working as a dramaturg and producer of choreographer, James Batchelor, touring to over 17 countries. Additionally, she has an ongoing collaboration with German artist Daniel Hengst on their work Art for Landscapes. Bek holds a Bachelor of Arts in Theatre Studies and Philosophy from Monash University, Australia. More info: www.bekberger.com 
The team of New Theatre Institute is joined also by Evarts Melnalksnis who will take over and develop the information work. He has studied at Latvian Academy of Culture and Hamburg University of Music and Theatre. Until now he has worked across the spectrum of music theatre forms, acting as a freelance dramaturg and initiating exciting international collaborations. 
Evarts Melnalksnis: 'For many years the New Theatre Institute and Homo Novus festival has played an important role in my professional development. BR.#04 BRUSSELS by Romeo Castellucci from his Tragedia Endogonidia seen during the festival in 2007 changed my understanding about contemporary theatre. His theatre language was radical, as was my experience. At the Institute I would like to encourage conversation about contemporary theatre and diverse artistic strategies that link performance to contemporary world and politics. I am thrilled by this opportunity.'
Starting from spring, journalist, producer and educator Eva Johansone has become a part of the NTIL team where she coordinates the Institute's activities at international collaboration project ACT: Art, Climate, Transition. 'During my life I've gathered a strange mix of knowledge and experiences: studies of social philosophy, life in Indonesian villages, biology studies, involvement in youth policy, showbiz, violin lessons, cultural journalism, documentary filmmaking, teaching, macroalgae research. Sometimes I have wondered – is there a job where I could combine all my interests and knowledge? It seems that my position as ACT: Art, Climate, Transition coordinator is the one. I am looking forward to join this European level project where art meets ecology', says Eva.
Producer Sandra Lapkovska will continue her work at the New Theatre Institute, completing the new team. Laura Stašāne, who has initiated and managed many challenging projects at the Institute for almost a decade, will carry on as a freelance art worker. After completing her final Homo Novus edition this September, former director Gundega Laiviņa will start the studies of urban placemaking and management at Pratt Institute New York focusing her research on how artistic and curatorial practices can contribute to fluid, open cities that embrace life and living. Until the end of the year she will continue financial and administrative management of the Institute.
Back