LiVe: Latvian Theatre Showcase presents "Specifically Latvian vol. 5" edition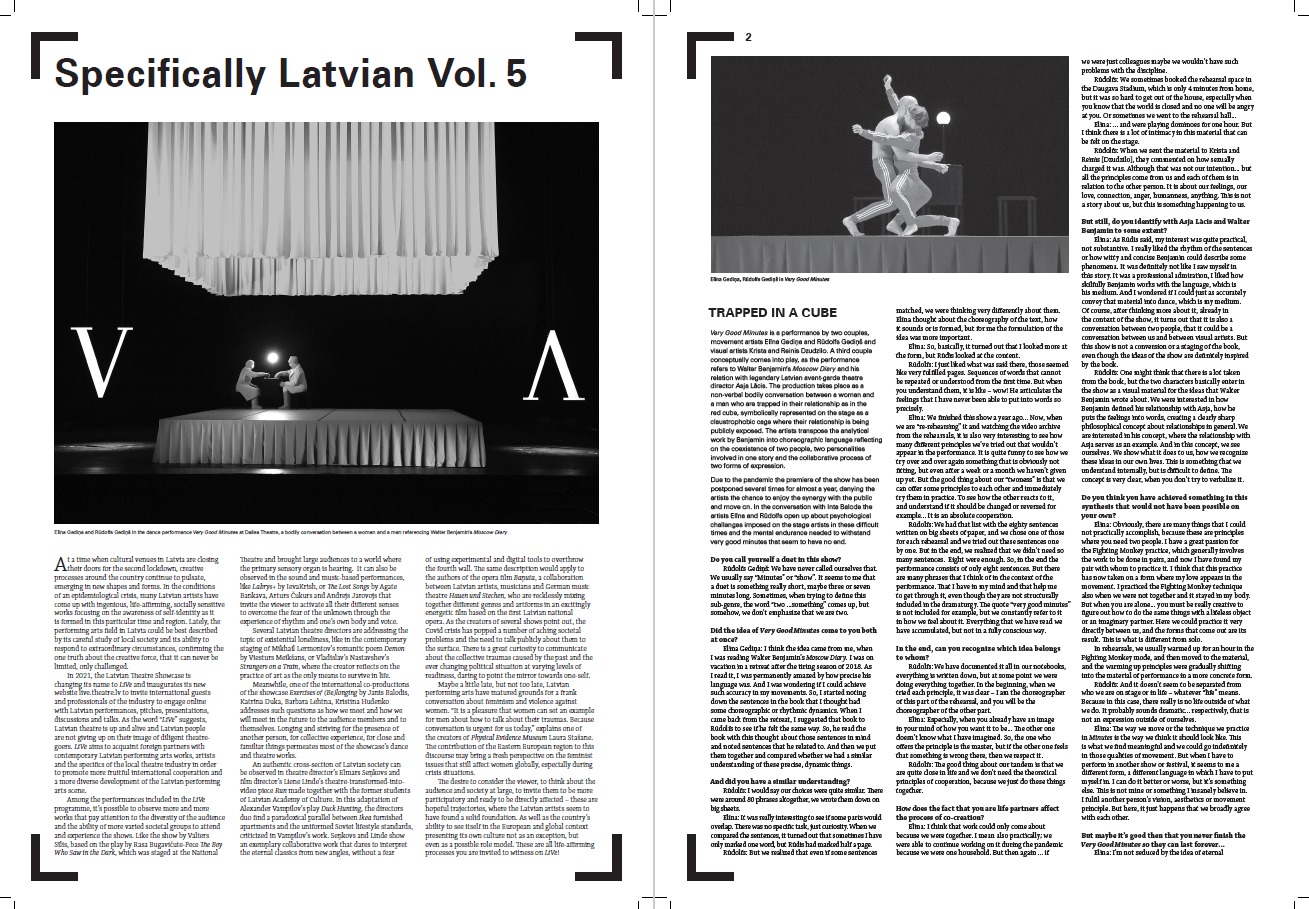 This year's edition of the Showcase publication "Specifically Latvian vol. 5" has been published online and in print. This edition reflects on the current events of Latvian performing arts and introduces with Latvian theatre and dance artists, original drama, current theatrical processes and artistic tendencies.
The fifth edition of the Showcase newspaper allows us to look back on a challenging period in the field of performing arts, when theatre houses have been shut due to pandemic and prepared performances have not met their publics. Our Showcase's artists share their thoughts about this time, when stopped, cancelled and, re-imagined the theatre like never before became aware of its unifying role as collective art. During this time, independent theatres have been very active in offering high-quality and unusual theatrical art events, as well as directors and artists have been invited to the state theaters to work with contemporary solutions. Latvian theatres have also become more concerned with the accessibility of various groups in the society.
"Specifically Latvian vol. 5 " edition contains the entire programme of the showcase as well as information about the pitching sessions. 
Download the "Specifically Latvian vol. 5" here – "Specifically Latvian vol. 5" 
From the 2nd till the 5th of November LiVe: Latvian Theatre Showcase 2021 will take place on live.theatre.lv. Performing arts professionals will be introduced to 14 performances, 9 pitch presentations and an extensive talks programme concerned with Latvian theatre industry. 
The 2021 LiVe: Latvian Theatre Showcase is organized by the New Theatre Institute of Latvia (NTIL) in cooperation with the Latvian Theatre Labour Association (LTDS), the Latvian branch of the International Association of Theatre Critics (AICT/IACT) and Latvian theatres, companies and individual artists.
The Showcase and the digital platform LiVe are financially supported by the Ministry of Culture of the Republic of Latvia and the target programme "KultūrELPA" of the State Culture Capital Foundation.
For more detailed information please check the LiVe: Latvian Theatre Showcase website (https://live.theatre.lv).
Back