Interview with Andrejs Strokins and Līga Ūbele about their "MagiC Carpets" residencies in Riga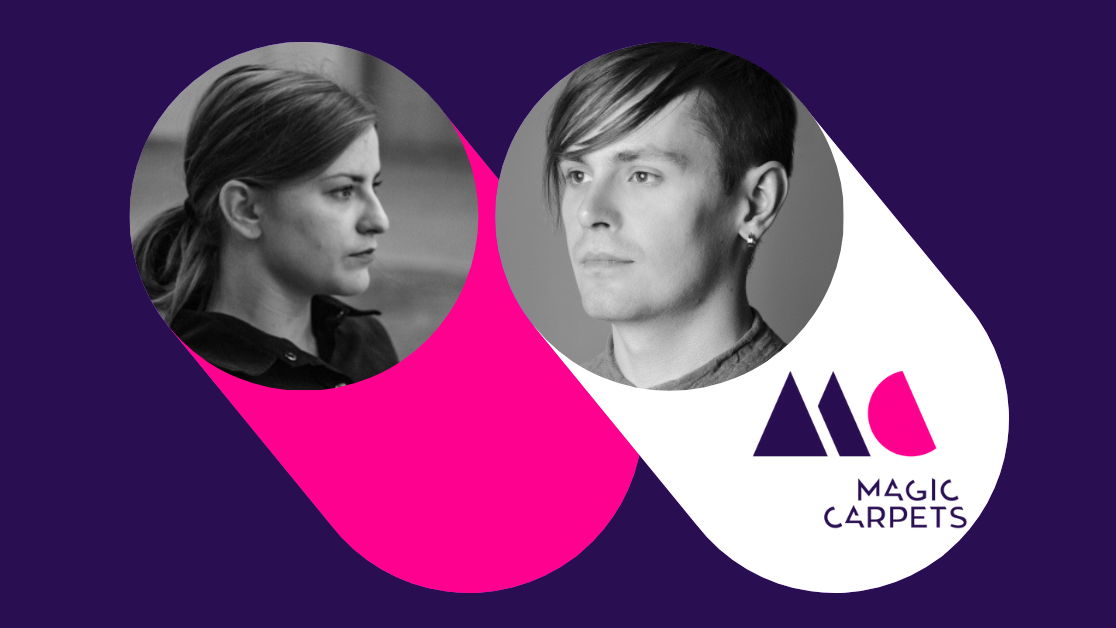 Choreographer and scenographer Līga Ūbele and photographer, documentarian Andrejs Strokins are currently working in the residencies implemented by the New Theater Institute of Latviaa, which are part of the international platform "MagiC Carpets". In August, Andrejs documented the demolition of the occupation monument in the Victory Park in Riga, and in the autumn he tried to find young people who would be willing to share their experiences about disagreements among family or friends regarding Russia's war in Ukraine. Līga, on the other hand, was interested in getting to know the leisure habits of the seniors of the Ķengarags neighborhood, the situation in the particular neighborhood in the context of the city, as well as finding an opportunity to create an event together. Both artists are currently in different stages and situations of residency. We briefly introduce and record this moment through some questions.
Briefly tell us about your residency – the idea, goal and stage you are in!
Līga: The original goal of the residency was to study how people in the neighborhoods of Riga spend their free time and how it shapes their views, as well as what are the available leisure opportunities in the neighborhoods. During the process, I got to know and started working with social anthropologist Ingūna Potetinova, who has been living in Ķengarags for 20 years and studies cultural availability there. Therefore, I decided that Ķengarags would be the area I would focus on. I chose seniors as the target group of my residency research, because they have the most free time, but the least opportunities and means to spend it, for example, attending cultural events.
Thanks to the representative of non-profit organisation "Cits Ķengarags" in Ķengarags, Yevgenii Milovanov, I found out that there is a day center in Ķengarags that offers various classes and other activities for seniors. It was this place and its seniors that became the center of my residency, where I started leading contemporary dance classes, talked with seniors and participated in their celebrations and other leisure classes.
During the process, inspired by Ingūnas' research on emptiness in Ķengarags, emptiness became the focus of my residency: both physical emptiness in the neighborhood of Ķengarags, and the lack of cultural events there, and loneliness as a void that seniors fill by visiting the day center, actively attending and leading various classes and activities, as well as simply meeting other people there.

Foto: Laura Gorodko
I am currently in the final stage of the residency and 3 events are planned that will reflect what was experienced and created there. Two of them will be Christmas events for representatives of different religous denominations. The main goal is to create a place and time for the seniors of the day center to meet and celebrate the holidays, while simultaneously dreaming together about how they see the future of both the day center and Ķengarags – what they would like to fill it with. Well-known people with musical surprises will also be invited to perform at these festive events, as many seniors mentioned that they mostly don't have the opportunity to attend concerts or performances on a daily basis, so it is important for me to provide them with such an opportunity within the residence. A final event/performance will be held in the middle of January, the aim of which is to highlight and create confidence in the seniors themselves – that their creative activities are important in the center of the day. To highlight the fact that, although there is almost no cultural offer in Ķengarags, they are the ones who create it by attending the choir, dance classes, etc. They are the ones who fill the void in Kengarags with their activities. With this performance, I would also like to refer to the fact that the Riga City Council planned to build a cultural center in Ķengarags, but it never happened. Instead, there is currently only an empty meadow near the "Dole" shopping center. This event would be like a pop-up cultural center. In the event, I plan to involve young people from various organizations that operate in the youth center "Kaņieris" there, in Ķengarags, thus creating a dialogue between representatives of different generations and institutions. Since the emptiness, especially now, in winter, is also very noticeable in the streets of Ķengarags, I want to bring it into this performance as well, in the form of video projections. Filling the symbolically empty Ķengarags with the activities of day center visitors.
Andrejs: I chose the research of the Russian-speaking community as the topic of my residency. Specifically, the attitude of Russian-speaking youth towards the war in Ukraine and the problems related to self-identification at this stage of history. I used the residency time for the research process, as well as looking for characters for the documentary.
Has your vision, opinion about the chosen topic changed in any way since you started working on the residence?
Līga: I think that my vision has not changed, rather the residency has gradually revealed more and more new layers about the chosen topic. It is significant that "emptiness" has become the main keyword for the residency, because when I started the residency, I too was almost like a blank page. I knew that I wanted to study the free time of seniors, I had different assumptions about the fact that, for example, the opportunities to spend free time attending cultural events are certainly small, but that's all. Only by meeting the seniors of Ķengarags, working and talking with them I gradually discovered various aspects of their daily life and the reasons why they have chosen to spend their free time at the day center. While initially I was more interested in the more global aspect of leisure and its impact on people's views, now my focus has shifted mainly to something more personal, such as solitude as a key aspect to function, meet others and stay active in old age.
Andrejs: Opinions about what is happening are changing rapidly, it is related both to the natural cognitive process, constantly finding new clues and nuances, and to the rapid development of events related to the war in Ukraine.
Why is it important for you to study/talk about it as an artist/person?
Līga: Right now, what I'm doing is important to me mainly, because the seniors I met at the residence and the day center staff have inspired me with their true desire to be active, not to stay passively sitting at home. I have been inspired by the activity of seniors and their positive outlook on life even in difficult circumstances. In old age, where a large number of friends go to heaven and loneliness has become an inevitable part. It was at the day center "Ķengarags" that I met such joy of life and energy that I had not seen anywhere for a long time. Therefore, I want to make them aware that what they do is valuable not only for their own pleasure, but that they are one of those who unconsciously shape the culture in Ķengarags.
Andrejs: I have Polish, Russian and Latvian roots, but I currently feel the Ukrainian people as my own. On the other hand, I feel ashamed for the existence of that small Russian particle in me. It is the drive to learn how others feel and to process personal experiences into an art form or a historical document.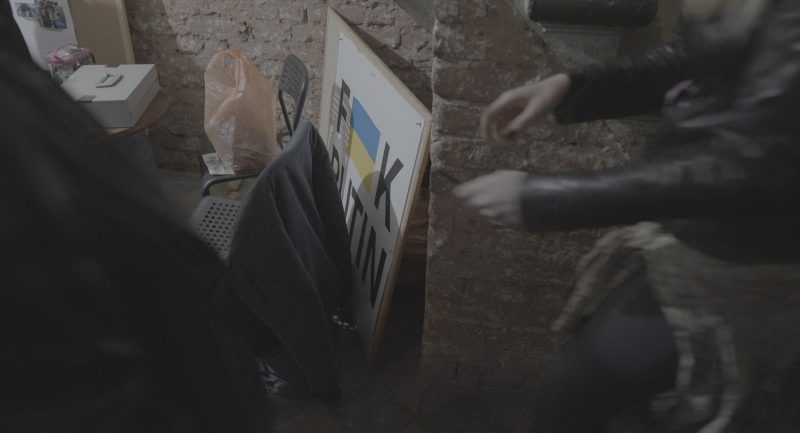 Foto: Andrejs Strokins
What has been the biggest surprise in the process?
Līga: Since this was my first experience working with communities, the surprise was definitely how much organizational work it requires, how much time it takes to find, get to know and approach these people – especially in a place that was almost completely unfamiliar to me. It was also interesting to experience what it is like to become part of a group, to gain trust, in a place and community where I have not worked before. It was also surprising to see how the seniors gradually opened up to the contemporary dance classes, which at first seemed quite strange to them. But my biggest surprise is definitely the people I got to know, their attitude, outlook on life, their great desire to work and their energy. I won't lie that before the residency, my perception of the seniors in the neighborhoods was definitely that they were much more passive. When I visited the awarding ceremony for volunteers of various Riga day centers, I was surprised by the fact that there are really many such day centers in Riga, and in all of them it is mainly seniors (even at the age of 98) who lead various classes and organize events themselves.
Andrejs: The biggest surprise was that most Russian-speaking young people do not want to share their stories. I partly put it down to a sense of shame and not wanting to irritate other family members. Often, in one family circle there are radically opposite political views, thus a different vision of Ukraine's future. Unfortunately, the future of Ukraine is also our future. This is a rather trivial thought, but every day I am convinced of it more and more.
"Magic Carpets" platform is an international project to promote the mobility and visibility of young European artists from different disciplines, giving artists the opportunity to take part in creative residencies where they work with local communities and artists to create socially inclusive and responsible works of art.
"Magic Carpets" platform and artists' residencies are co-funded by the EU's Creative Europe programme.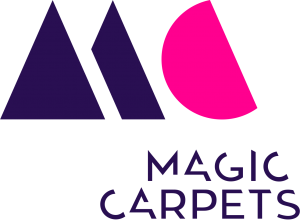 Back