International Festival of Contemporary Theatre "Homo Novus" announcing the first artists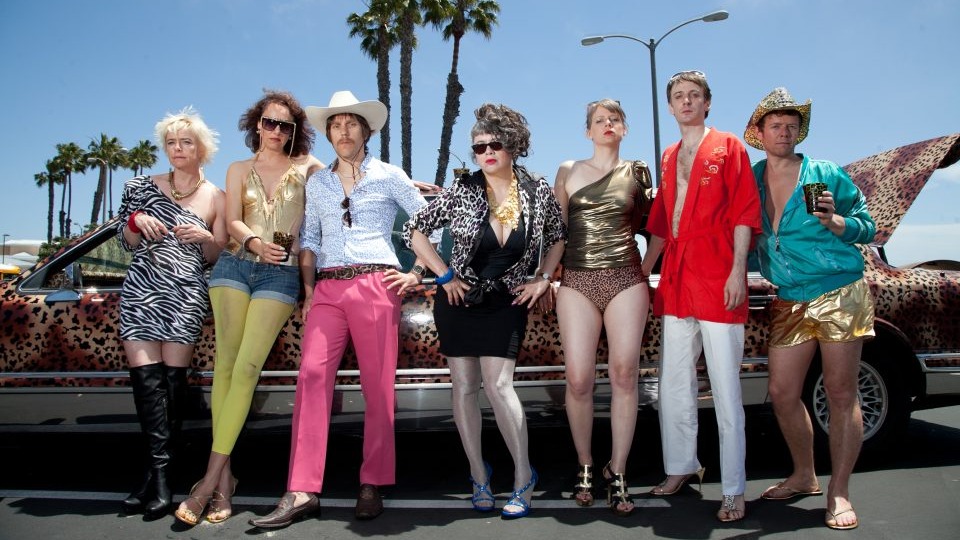 The International Festival of Contemporary Theatre "Homo Novus" will take place in Riga from August 30 to September 9. The 19th festival is dedicated to at the actions of hospitality, collectivity and the potentialities of working together, not apart..
International Festival of Contemporary Theatre "Homo Novus" welcomes back festival favourites from the past, generates new collective practices and shares the latest works generated from Latvian artists and abroad. Though the full announcement won't come until August, the festival is proud to present the first artists as a promise for much more. This year we are returning to the familiar, to dive deeper into existing connections and to see what is possible if we make a longer commitment to each other! Join us from August 30th – September 9th at our festival centre, Kaļķu iela 24 and all our of satellite venues.
Contemporary Theatre legends, Gob Squad (DE/UK) returns to Riga finally(!) with their work Western Society – Western Society is a portrait of civilisation in the 21st century, like a frame through which we can peep into the living room of an unknown family, and recognize ourselves. In a far corner of the internet, Gob Squad have found a fairly unspectacular home video, of a family gathering somewhere at the edge of the western world, a waste product of our civilisation. In addition to presenting their work Gob Squad will be hosting the Homo Novus Festival School in 2023. Seven local artists will join three international participants over the course of a week to collectively learn methodologies and generate new work with the Gob Squad Ensemble.
Claire Cunningham returns with her performance lecture 4 Legs good – a performance exploring Claire Cunningham's artistic practice; specifically, the use/ misuse, study and distortion of crutches and how they shape her own artistic practice. In returning to Riga she will once again offer a masterclass to reconnect with the participants last year and open up the practice to more interested folks.
Jaha Koo will present the second piece in his Hamartia trilogy after sold out shows in the 2022 edition of the festival. Cuckoo – A journey through the last 20 years of Korean history told by a bunch of talkative rice cookers. One day when his electric rice cooker informed him that his meal was ready, Jaha Koo experienced a deep sense of isolation. 'Golibmuwon' (고립무원) is an untranslatable Korean word expressing the feeling of helpless isolation that characterizes the lives of many young people in Korea today.
After more than eight years Kim Noble returns with his latest performance Lullaby for Scavengers. Kim Noble is an award winning comedic performance and video artist. His multi-disciplined approach has led him to work across theatre, TV, film, art and comedy. Kim's work uses a provocative and humorous style to expose the human condition: notions of death, sexuality, gender and religion are picked at with dry comedic use of tragedy meshed with absurdity.
Lastly Andy Field and Beckie Darlington have reconnected with the children of Riga (after their sold out production of Lookout in 2017). In collaboration with 50 local school children aged 8-11 (and many amazing teachers and parents) they have created The Book of Riga, a new guidebook to the city. Part fictional imagining, part actual guidebook invites its predominantly adult audience to see the city through the eyes of its youngest inhabitants. Whether you are a visitor or a local resident, this project is a way of expanding what you think you know about a place and an invitation to participate in a conversation about the very different values and meanings that adults and children ascribe to the things they encounter in the world around them. The Book of Riga will be launched in the Frame of the BePart Symposium by the young editors.
Lastly the Festival will close with the Art Beyond Participation Symposium – this the final activity of the collaboration of 10 international partners over the part 4 years and will include a series of performances, lectures, workshops, gatherings and invite the city/festival to question what we know about participation and how to invite communities in closer. The symposium will feature presentations from across the network, and beyond. The Symposium will be a free event with sign up to take place in August.
Latvian Artist Program including the Casino Latvia Commissions will be announced later in June.
Tickets for the first shows are on sale now apmekle.lv
The full program of the International Festival of Contemporary Theatre "Homo Novus" will be announced on August 8th at a press conference at 10am at Festival Centre.
Back