With For About 2020, a slow conference for a fast evolving crisis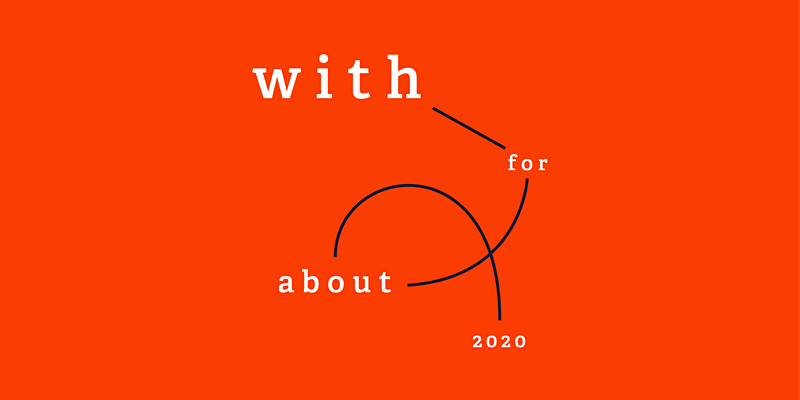 Every Wednesday between 27 May to 17 June 2020 at 16.30 (EEST) we invite to "With For About 2020", a slow (virtual) conference for a fast evolving crisis, a safe space to discuss and reflect on the fierce and urgent questions of our time. Short digital presentations, performances and provocations will bring together a range of voices and experience from across the world.
The 5th With For About conference responds to the additional challenges that Covid-19 creates for many marginalised people and communities, asking: What creative solutions have marginalised people developed to survive before Covid-19? What creative ways of being and organising are being made now in response to Covid-19? How do we embed and share  these solutions, ways of being and organising now and into the future? The event's guest curators – artist and mental health activist 'the vacuum cleaner' and curator and agitator Cecilia Wee wilfully ask in facing this crisis, another ten years of austerity, ecological collapse, harsher borders, more racism and deeper ableism within deeply divided societies – how can artists, activists and organisations make vital change within our communities and beyond?
Themes will be mixed together to allow a truly intersectional understanding of care work, class, colonialism, disability, ecology, feminism, mental health, migration, lgbtq+, racism, surveillance  – all under the framework of Justice and Rights based approaches.
Featuring international artists, activists and academics so far:
AM Kanngieser (AUS) |  Banmanya Brian (Afrorack) (UGA) | Bella with Selina Thompson (GBR) | Cassie Thornton (CAN/USA) | Cathy Cross with Children from Lansbury Bridge and Broad Oak, St Helens (GBR) | Fox Irving (Women's Working Class) (GBR) | Prof. Rita Giacaman and Dr Weeam Hammoudeh (PSE) with Dr Hanna Kienzler (GBR)| Jesse Presley Jones (IRL) | Johanna Hedva (USA/DEU) | Migrants in Culture (GBR) | Lois Weaver (GBR) | Martin O'Brien (GBR) | Navild Acosta and Fannie Sosa (Black Power Naps) (Nomadic) | Neil Bartlett (GBR) | Kat Salas and Matilda Bickers (STROLL PDX) with Roya Amirsoleymani (Portland Institute for Contemporary Art) (USA) | Touretteshero (GBR) | Cecilia Ashaley and Esenam Drah (GHA) with Dr Ursula Read (GBR) | Youngsook Choi (GBR) and more.
First episode from the 27th May
HOW TO JOIN IN
WATCH – With For About 2020 is free to attend, a donation is voluntary. Register for the conference via Eventbrite to receive updates via email. You only need to register once over the 4 weeks to be kept up to date.
PARTICIPATE – The curators are still looking for projects and practice to include in the conference. You can sign up until 8 June. Please read the open call here.
More details on programme and contributors
With For About 2020 is made by Heart of Glass in partnership with Live Art Development Agency (UK), Create Ireland, Gessnerallee (Switzerland), Sophiensaele (Germany),  New Theatre Institute of Latvia (as part of ACT: Art, Climate, Transition project co-financed by the Creative Europe programme), A Bade of Grass (USA), Portland Institute of Contemporary Art (USA), Migrants in Culture. Funders: Arts Council England, Paul Hamlyn Foundation, Gessnerallee.
Back