Dance performance "Vērpete" at Hanzas perons new performing art series "Pārmija. # 2". Postponed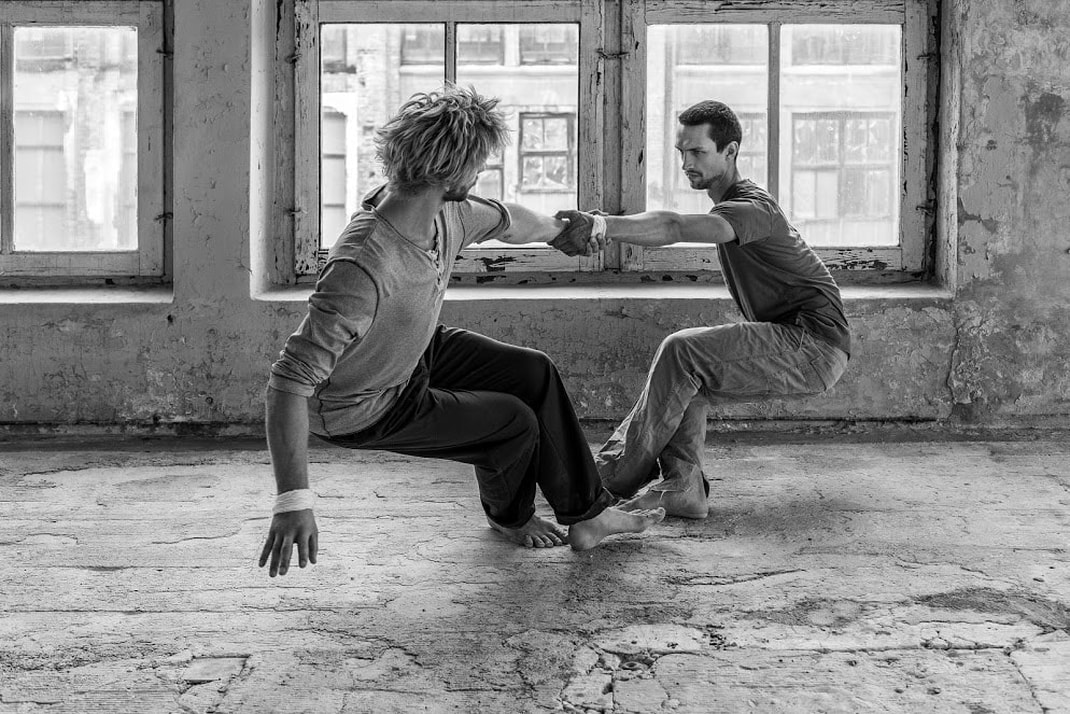 The International Festival of Contemporary Theatre "Homo Novus" will celebrate 25th anniversary this year and starting in March, together with "Hanzas perons", a new multifunctional venue in Riga, we will co-present a different guest performance on one Sunday each month in the series "Pārmija".  The first event in the series will be the solo piece "Past Perfect" by renowned Estonian artist Mart Kangro, the second episode in April will bring back the dance performance "Vērpete" (Whirl) by Krišjānis Sants and Erik Eriksson which premiered at Homo Novus festival in 2015 and later received Latvian theatre award in contemporary dance.
Krišjānis Sants and Erik Eriksson VĒRPETE (WHIRL)
at Hanzas perons, Hanzas iela 16a
! The original date of the show on 19 April is postponed till autumn. We will keep you updated!
Idea, choreography and performance: Krišjānis Sants, Erik Eriksson
Musicians Mārtiņš Miļevskis, Rihards Lībietis
Producer New Theatre Institute of Latvia
Photo Alex Ribowski
Duration 50 min.
No text
In "Vērpete" choreographers Krišjānis Sants and Erik Eriksson bring together their keen interest of the moving body and their extensive research of the Baltic traditional songs and dance. Utilizing the melodic structures of folk songs and a circular pattern common to many cultures, the two dancers become the evolution of one constantly changing vortex of movement. Turning hand in hand, it is the agreement and commitment to disagree that keeps the dancers moving together.
Music on stage is created and performed live by Mārtiņš Miļevskis and Rihards Lībietis.
"Moving through the space, they stir up movement in the audience, resembling the movement of water when a stone is thrown into it. There is a common rythm, ritual, attraction and opposition at the same time."
Maija Uzula-Petrovska, kroders.lv
Latvian Krišjānis Sants and Swedish Erik Eriksson met while studying at P.A.R.T.S. dance school in Brussels. "Vērpete"was their first collaboration  Currently Krišjānis Sants is touring internationally as a performer with Heine Avdal and Yukiko Shinozaki (BE/NO/JP) and creating work in Latvia as "IevaKrish" together with dance artist Ieva Gaurilčikaite-Sants. Erik Eriksson has been collaborating with choreographer Daniel Linehan (USA), directors Krista Burāne (LV) and Andy Field (GB) and dance artist Danielle Eriksson (SE). He also teaches in several European dance schools. Mārtiņš Miļevskis is a percussionist and composer who has performed with the popular Latvian band "Astro'n'out" and folk music group "Auļi" and has written music for documentary films. Rihards Lībietis plays accoustic guitar and regularly performs his compositions solo or with Rihards Lībietis Orchestra and other artists, has released several albums and tours together with Linda Leen.
Back