Baltic Transfer festival in Warsaw 18-24 October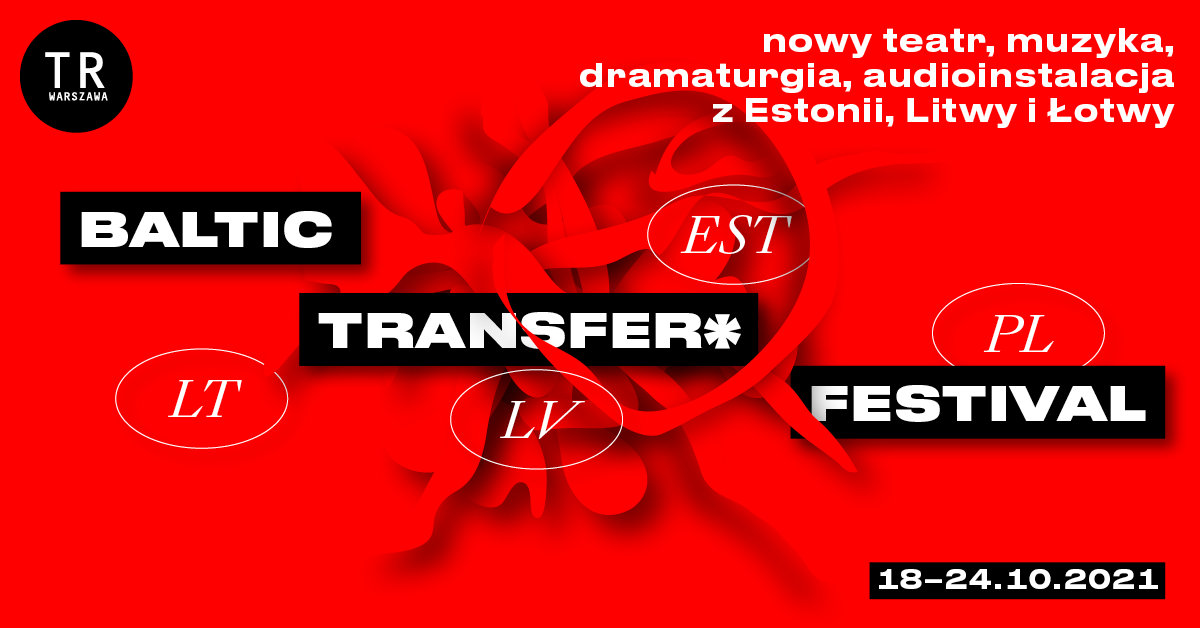 Baltic Transfer festival is an initiative of TR Warszawa, one of the leading theatres in Poland, and will present new theatre forms from the Baltic countries in Warsaw.
From 18 till 24 October the festival will showcase theatre and multidisciplinary works from Latvia, Lithuania and Estonia, as well as meetings, public talks and discussions with artists. The festival concludes the two year collaboration project among TR Warszawa, New Theatre Institute of Latvia, Vilnius State Youth Theatre and Vaba Lava theatre centre in Tallinn.
Baltic Transfer developed around the idea of a space where artistic projects are transferred to other cultures, acquiring there a new context and taking on a new meaning. This exchange is not the circulation of artworks as they already are, but their reinterpretation, rethinking and re-signification, a process that becomes enriching for both parties.
The festival programme includes a non-fiction drama "Being a Nationalist" by Matīss Gricmanis and Valters Sīlis that will be presented in a new adapted version with participation of TR Warszawa performers. The piece, originally produced by Dirty Deal teatro, is a coming of ages story and stage confession of Matīss Gricmanis, who used to be an activist of a Latvian nationalist party. In the production he reveals the mechanisms behind the nationalist movement.  Two other productions by Latvian artists at the festival have been staged in Vaba Lava in Tallinn with Latvian-Estonian cast – "Two Garages" by Elmārs Seņkovs that tells a story of young men who reach adulthood just as their countries win their independence. The post-Soviet transformation period society is portrayed also in "I Had a Cousin"by Rasa Bugavičute-Pēce and Valters Sīlis . The piece brings up the issue of organized crime, which was on the rise in the Baltic countries during the transformation period, through the true story of the playwright's cousin – one of the leaders of Kaunas mafia, who was killed by assassins from Estonia in 2015, when he was 27.
All shows will take place in TR Warszawa, followed by artist talk moderated by the festival's curator Roman Pawlowski:
20 October. 20:00 "Being a Nationalist" (Warsaw edition)
21 October 20:00 "Two Garages"
22 October 20:00 "I Had a Cousin"
The festival presents also a musical piece by Lithuanian artist Arturas Bumšteinas, two productions form Vilnius State Youth Theatre by Adomas Juška and Kamile Gudmonaite, readings of a play by Rstonian dramaturg Siret Campbell, as well as a documentary film by Estonian director Marta Pulk "A year Full of Drama" that explores the phenomenon of massive theatre attendance culture in Estonia.
More on Baltic Transfer festival: https://trwarszawa.pl/en/baltic-transfer-festival/program/
The festival in October continues the prologue programme of Baltic Transfer this summer when "Physical Evidence Museum", a multidisciplinary work by Laura Stašāne and Jana Jacuka, focusing on domestic violence issue, was presented in Warsaw on 1-6 July.
Baltic Transfer festival and project is co0funded by Baltic Culture fund.
Back