Written in Neon. Riga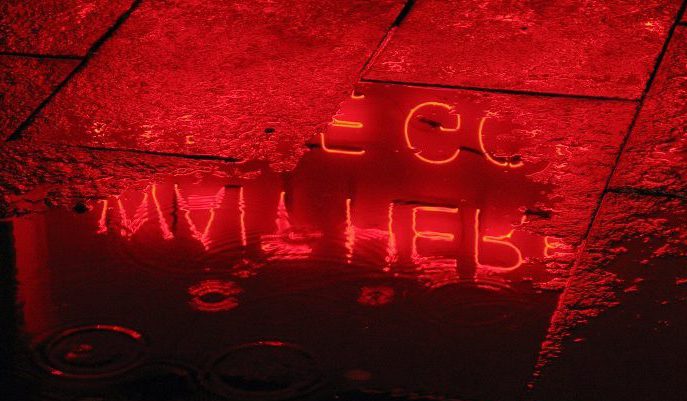 From 13 August New Theatre Institute of Latvia in collaboration with internationally renowned theatre director, dramaturg and visual artist Tim Etchells and four artists from Latvia – Santa Remere, Jānis Balodis, Kirils Ēcis and Inta Balode – invite inhabitants of Rīga and the guests of the city to go on expeditions and enjoy urban installations "Written in Neon. Rīga".
This summer publicist Santa Remere, theatre maker Jānis Balodis, author of dance texts Inta Balode and poet Kirils Ēcis took part in text making workshops led by Tim Etchells, in which they reflected on important topics and values in modern society by transforming text and language itself, freeing it from theatrical layers, showing words: their sounds, meanings and unknown word strings.
Each of the artists came up with a special work of art dedicated to the city of Rīga and its inhabitants.
Santa Remere "MĪĻĀ SIRDS" ("DEAR HEART") / Crossing of Tvaika street and Ganību dambis, Sarkandaugava.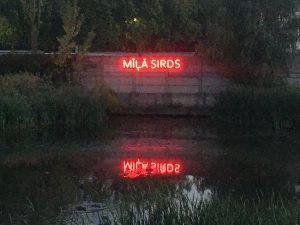 DEAR HEART are words that disarm you, but at the same time make you careful and make you doubt the person who is addressing you. These words express compassion, fatherly or motherly care, but with these words doctor delivers you the bad news or boss bames the employee. The Sarkandaugava canal is a place where no one wants to live or come nearby. But this has not always been the case. Once it played a different role in the city life – once it was Sarkandaugava river that gives name to the region – a river where ships could sale and people could swim until the river received its diagniosis. The red letters DEAR HEART is a warning that everything can always change for the better or for the worse.
Kirils Ēcis "kā iemācīties nemest ēnu?" ("How To Learn Not To Cast A Shadow?") / former LU Biology faculty, Kronvalda bulv. 4
To learn coexistence that is not based in competition. To learn shared space that is not based on distance. To learn independence in a crowd of independences. As if to be and not to be at the same time. As if to stand in the light, not casting a shadow at the same time. "How To Learn Not To Cast A Shadow?" alternates with the former Faculty of Biology, complementing each other. Curious and attentive care for the environment that surrounds and embraces is one of the ways we are able to learn not to cast a shadow, not to stand in front of the light that is needed by someone else.  It is a very utopian idea. At the same time this question is asked by the building itself, mentioning the holes in the urban environment of Riga – buildings that over time have become invisible wrecks. 
Jānis Balodis "mums ir kaut kas kopīgs" ("we have something in common") / vērojams no "Tilta uz nekurieni" Daugavgrīvas ielā 29a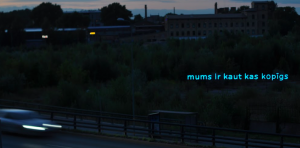 The statement does not rule out that there are differences between us. We are not the same, but this neon sign is a small attempt to look for what unites us in any way. The purpose of this search and discovery process is not to unite only on the basis of happiness and joy. Rather, it is an offer to allow unifying searches to lead where they want to lead. And to find sad, foolish, clumsy, heroic, cowardly and touching unifying events.
Tim Etchel "Kad tu šo lasi" ("When you read this") / Miera iela 39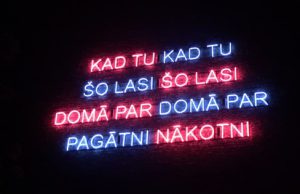 Tim Etchells in cooperation with Gundega Laiviņa (former artistic director of New Theatre Institute of Latvia and International Festival of Contemporary Theatre "Homo Novus") invite the reader into the very different thought-experiments of thinking about the past and thinking about the future. Rendered with one phrase in red and one in blue "Kad to šo lasi" invokes a playful visual complexity as the differently coloured phrases interweave with each other, which mirrors and amplifies the game of textual echo and difference in the text of the work. 
Etchells says: "I developed the work following conversations with Bek Berger and other team members at NTIL, and through an extended dialogue with Gundega Laivina, whose input and engagement with me was central to the realisation of the project. 
"Kad to šo lasi" began from conversations about Latvia and specifically about Riga, its complex and always present historical past and its current situation in moving towards a sense of its future. I wanted to create a work which spoke to the dynamic tension of the city and its inhabitants who face the simultaneous challenges of looking backwards and forwards at the same time.
The topics of the future and the past can be intimately and directly connected to our personal experience, but they also open to broader questions of social memory and political possibility. Like many of my works "Kad to šo lasi" throws an open, poetic proposal into public space and expects that each person coming to it will generate something different from the encounter."
 Etchells' neon and LED pieces often draw on his broader fascinations as an artist, writer and performance maker, exploring contradictory aspects of language – the speed, clarity and vividness with which it communicates narrative, image and ideas, and at the same time its amazing propensity to create a rich field of uncertainty and ambiguity. Through simple phrases spelt out in neon, LED and other media, Etchells strives to create miniature narratives, moments of confusion, awkwardness, reflection and intimacy in public and gallery settings. Encountering the neon sign works, in the streets of a city or in the space of a white cube gallery, the viewer becomes implicated in a situation that's not fully revealed, or a linguistic formulation that generates confusion or ambiguity. As often in Etchells' work, in the neons the missing parts of the picture are as important as the elements that are present. Invoking a story, or projecting an idea out-of-context, the work invites us in, but into what exactly we can't be sure.
Five artworks will be viewable in Rīga from 13 August until 31 October. Art works pop up in the city  unexpectedly and are not previously announced; works are premiered with a musical urban intervention.
Map of all the works: Pateikts neonā. Rīga
In the beginning of November each of the works will travel to Aizpute, Tukums, Rēzekne and other cities in Latvia.
Thanks to our collaborators – Rīga Electric Machine Building Works and Realto, the owners of house on Miera Street 39, SIA "DG31", University of Latvia and landlords of the ex-Faculty of Biology building. Special thanks goes out to Jānis Liniņš, Oskars Plataiskalns and the whole team of SIA "Dekorāciju Darbnīca".
Project "Written In Neon. Rīga" is supported by Council of Rīga and State Culture Capital Foundation.
#pateiktsneona #rigasvasara #riga


Back