Photos from "Written in Neon. Riga"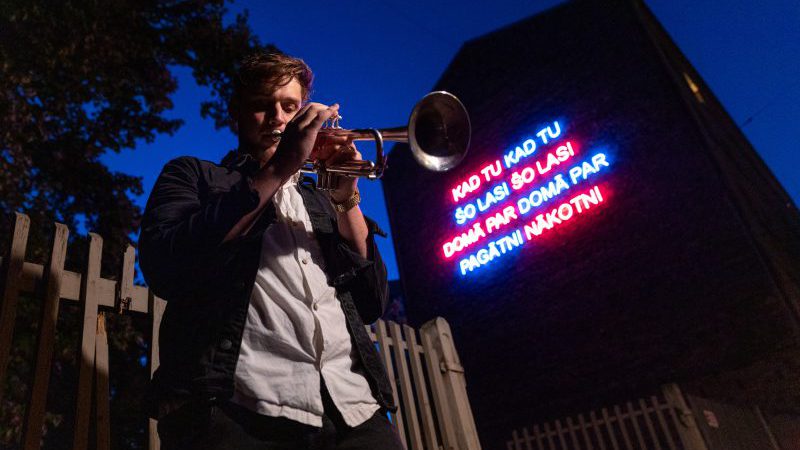 From 13 August New Theatre Institute of Latvia in collaboration with internationally renowned theatre director, dramaturg and visual artist Tim Etchells and four artists from Latvia – Santa Remere, Jānis Balodis, Kirils Ēcis and Inta Balode – invite inhabitants of Rīga and guests of the city to go on expedition and enjoy urban installations "Written in Neon. Riga". In the beginning of November three of the works will travel to Aizpute, Tukums, Rēzekne and other cities in Latvia, while the other two will stay in Riga and continue to illuminate the city's landscape.
Santa Remere "MĪĻĀ SIRDS" ("DEAR HEART") / Crossing of Tvaika street and Ganību dambis, Sarkandaugava.

Kirils Ēcis "kā iemācīties nemest ēnu?" ("how to learn not to cast a shadow?") / former LU Biology faculty, Kronvalda bulv. 4

Jānis Balodis "mums ir kaut kas kopīgs" ("we have something in common") / viewing spot located on "Tilta uz nekurieni (The Bridge to Nowhere)" Daugavgrīvas iela 29a

Inta Balode "mēs tieši tāpēc satikāmies" ("that's why we met") / Āgenskalna market
Tim Etchells "Kad tu šo lasi" ("When you read this") / Miera iela 39

Photos: Liene Eicēna, Anna Dārziņa
Thanks to our collaborators – Rīga Electric Machine Building Works and Realto, the owners of house on Miera Street 39, SIA "DG31", University of Latvia and landlords of the ex-Faculty of Biology building. Special thanks goes out to Jānis Liniņš, Oskars Plataiskalns and the whole team of SIA "Dekorāciju Darbnīca".
Project "Written In Neon. Riga" is supported by Council of Rīga and State Culture Capital Foundation.


Back