Everything I Bought and How It Made Me Feel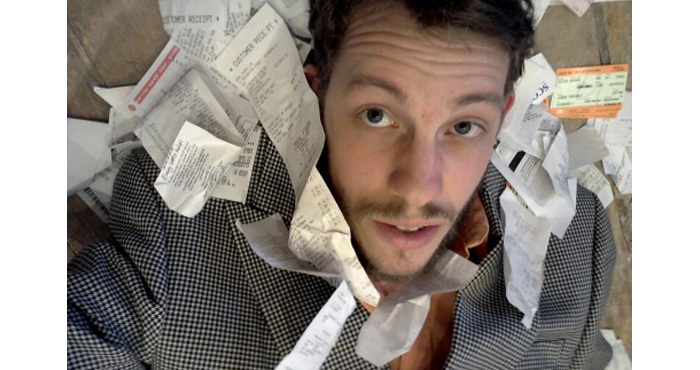 New Theatre Institute of Latvia presents the lecture-performance Everything I Bought and How It Made Me Feel by Scottish artist Harry Giles on September 27 at 17.30 at Spīķeru Concert Hall (Maskavas str. 1). The performance is followed by the discussion. Free entrance.
Harry's got a problem. Maybe you do to. He keeps buying things to feel better, but they just make him more miserable. So he's started keeping a diary…

For a full year, Harry is logging every financial transaction he makes on everythingibought.tumblr.com. In painstaking detail, he's writing about how each purchase makes him feel — his hopes, dreams, fears, and utter failure to come to a liveable compromise with capitalism.
 Everything I Bought And How It Made Me Feel is now a new stage show, asking: Why do we buy what we do? Is there any way to do it better? And how does consumerism really make us feel?
The performance is a part of the international symposium "I, Consumer. Shopping, the Climate and Us". The two-day event is gathering more than 50 artists and experts from Latvia, Lithuania, Estonia, Finland, Norway, the Netherlands, Canada, Ukraine and Belarus to explore the relationship between consumerism, climate change and well-being and to look at how to get off the treadmill of consumption.
Harry Giles is a poet, performance-maker and producer from Orkney. He has studied sustainable development and theatre directing, and he is linking these spheres in his practice. Harry Giles is currently based in Edinburgh, where he has been working as Environment Officer at the Festivals Edinburg – working with festivals and venues to monitor and manage environmental impacts. He also co-ordinates the spoken word events series Inky Fingers, co-directs the live art platform ANATOMY, and is part of the team running the Forest Café arts space. His debut pamphlet Visa Wedding was published by Stewed Rhubarb (2012); he has won multiple slams including the UK Student Slam (2008), the BBC Scotland Slam (2009), the Glasgow Slam (2010).
Harry also makes participatory theatre performance, working as a solo performer and as a facilitator, creating one-to-ones, installations, street interventions and longer interactive shows in theatre spaces. Currently in his active repertoire there are two performances – "What We Owe" (2012) and "This is not a Riot" (2012); and two performances in progress – "Class Act" (a game with audiences about class war) and "Safeword" (investigation of consent in sexual, political and artistic contexts).
Back