Dance Moves Cities meeting and creative lab in Riga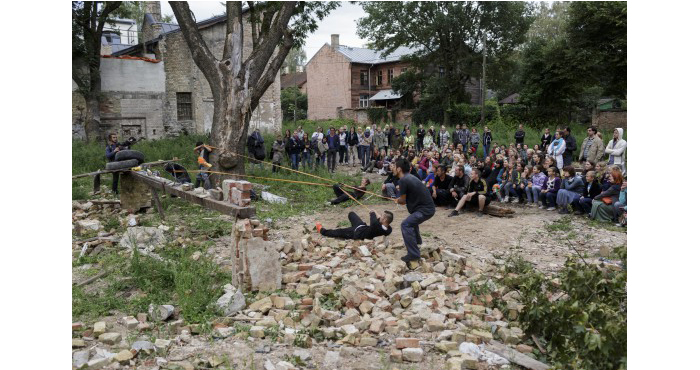 During 2014 Dance Moves Cities project have presented a series of residencies and events in Riga (LV), Terni (I) and Krakow (PL) where several international choreographers worked with local dancers exploring the context of dance in urban setting and developing new creations in public space.
Each city chose a different focus of work, adapted to local needs and interests. In Riga the project explored three different neighbourhoods through different artistic styles and proposals led by choreographers Koen Augustijnen (BE), Willi Dorner (A) and collective contact Gonzo (JP) with a strong contribution of Latvian dancers. The social, economical, geographical and emotional context of each place, the history, the architecture, and not less weather conditions, played an important role in the creative process and influenced the presentations to the public.
Dance Moves Cities meeting and creative lab
September 29- October 4
DMC Lab programme and contributors
Following the intensive  learning period, Dance Moves Cities participants from Terni, Krakow and Riga joined by four dance artists from Porto, will come together for 6 days to talk, think, share experiences and engage in choreographic exploration of the city. The lab will end on October 4 with a presentation in the public space created by the participants. Led by Carme Torrent (ES) and Koen Augustijnen (BE) with interventions by Mårten Spångberg (S) and Imanuel Schipper (D).
Participants: Dorota Wacek, Ewa Hubar, Monika Kiwak, Marta Mietelska, Kristīne Vismane, Eva Vancāne, Evita Birule, Dinis Machado, Mariana Amorim, Catarina Miranda, Isabel Costa, Luisa Contessa, Lucia Di Pietro, Marcella Mancini, Roberto Costa Augusto, Lucia Guarino and Fabritia D'Intino.
Back